A new dual-wield silenced pistols weapon and shotgun have been leaked from the Fortnite v12.40 update.
Nearly every Fortnite update comes with a few leaks, and v12.40 was no different. In fact, we saw two new weapons leaked following the downtime for the most recent update.
We have Dual Silenced Pistols and an unnamed shotgun that will likely be coming to Fortnite in the next few weeks. We'll start with the pistols since they're probably closer to being released.
Dual Silenced Pistols
The Dual Suppressed Pistols were the first of the new items to be discovered in the game files. According to @Hypex, these pistols will come in uncommon, rare, and epic rarities.
The stats for the new pistols are as follows:
Ammo: Medium Bullets
Reload time (seconds): 3.15/3/2.85
Mag size: 18
Damage to player: 37/39/41
Deadpool's pistols are very similar to these, which was unexpected to many players. They aren't like the Dual Pistols of old. We can expect these to come into the game within the next week or two.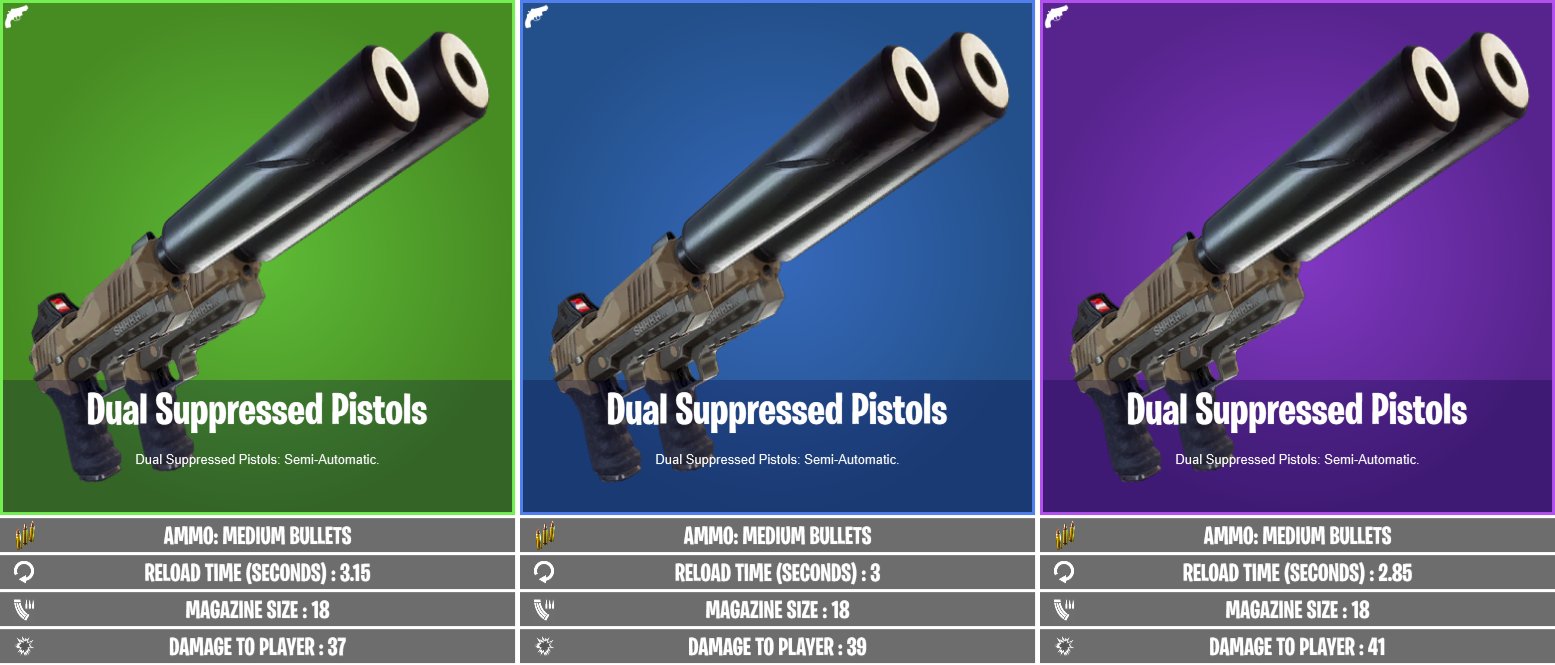 New Shotgun
The new Fortnite shotgun is probably further away than the pistols due to the fact that it's still in development.
All we have for this shotgun is a codename: "Shotgun_Charge_Athena." According to Hypex, it will be available in all rarities. Here are the reported stats of the gun.
Rarities: All
Damage: 68/77/85/95/102
Headshot multiplier: x1.5
Damage charge multiplier: 1x – 1.75x
Mag size: 3
Charge time: 1 second
As you can see by the statistics and the codename, this shotgun appears to be some sort of charge weapon.
It will be interesting to see whether this gun becomes popular in the era of quick edits and lightning-fast shots. It doesn't seem to gel too well with the high-level meta, but we'll have to see.
Since this shotgun is still in the works, it's safe to assume it won't come to the game for another two weeks – at least. Expect to see the pistols before the new shotgun.