Find out how to unlock Deadpool's X-Force variant in Fortnite.
Deadpool was one of the most anticipated skins in Fortnite. Players were looking forward to unlocking him as soon as Season 2 released and they saw that he'd be the secret skin.
The skin hit the game during week 7, and week 8 brought us the unmasked variant. According to files found in the v12.40 patch, we'll be getting an X-Force variant this week.
The challenges for the variant require you to find Deadpools shorts and salute his pants. Here they are, thanks to @iFireMonkey on Twitter.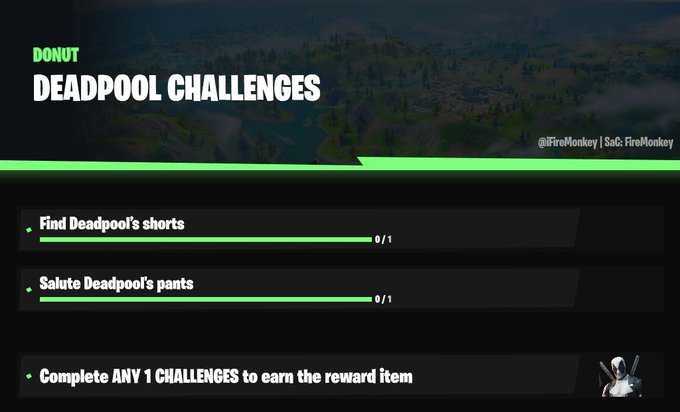 The shorts will undoubtedly be somewhere in the Battle Pass tab – probably in Midas' locker. We'll update you when the challenges go live.
The pants have already been found, however. The challenges could point you to one of two pairs. There is, of course, the pair of pants at The Yacht. More likely, though, Fortnite will be pointing us to the newly-spawned pants at the top of Mount Kay.
Once you complete these challenges, you'll unlock Deadpool's X-Force skin. Apparently, the Deadpool takeover is set to last through the end of the season. Hopefully, that means more variants like this one.
As always, we'll keep you covered if more Deadpool challenges get leaked in the coming update. Epic have confirmed that v12.41 will be released next week, so stay tuned for that.