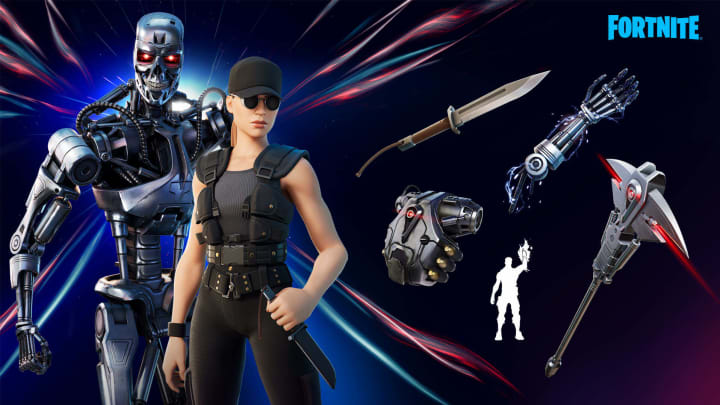 How to Get the Terminator and Sarah Connor's Skin in Fortnite is as simple as ponying up the V-Bucks. Here are the details on the Terminator and Fortnite collaboration.
Epic Games recently unveiled the Predator crossover event, and another crossover featuring a classic Arnold Schwarzenegger film is here. Unfortunately, Epic didn't seem to be able to get the license to use Arnie's likeness in Fortnite. Nevertheless, we have two skins from The Terminator in Fortnite.
Sarah and T-800 both are packed in the Future War Bundle for 2,800 V-Bucks. The pack comes with Sarah Connor, T-800, the T-800 Endoskeleton Arm reactive harvesting tool, Combat Knife harvesting tool, Technogrip Axe harvesting tool, HK Skynet Uplink backbling and the Cyberdine Salute emote. You can also grab any individual item separately, as well.
The Sarah Connor outfit has two styles, based on Linda Hamilton's Sarah Connor as she appears in Terminator 2. By herself, she costs 1,800 V-Bucks and comes with the Combat Knife and Arm. The T-800 here is canonically the Terminator that Arnold plays, but the outfit doesn't feature a style that has his likeness. It does have a built-in emote and comes with the HK Skynet Uplink backbling. T-800 will run you 1,500 V-Bucks.
The trailer shows Jonesy pulling The Terminator out of the vat of molten steel at the end of Terminator 2; a clever way of working around the issue of the T-800 outfit not having any skin.
The highlight of this set is the Cyberdyne Salute, calling back to The Terminator's sacrifice at the end of Terminator 2. The emote has your character give a dramatic thumbs up gesture before their hand catches on fire.