Epic Games have finally brought vehicle modifications to Fortnite in Chapter 2 Season 6 so that you can upgrade cars with different add-ons, and here's everything you need to know about this.
Fortnite Chapter 2, Season 6 has quickly won over fans with its various new additions, including weapon crafting, tamable wild animals, and a whole new set of quests in the new Battle Pass. Now, Epic Games have added another neat feature.
Modified vehicles had been teased by leakers a while back, and a few fans noticed their presence in trailers for the new season. Now, the v16.20 update, has finally brought vehicle mods to the battle royale.
What do Fortnite Chonkers tires do?
The first vehicle mods to be released in Fortnite are new tires known as Chonkers, and these let you ride up steep surfaces such as hills. They also provide you with a better grip and bouncy suspension when driving off-road.
Additionally, once you've found a pile of these tires, you can use them for cover during combat situations where enemies have surrounded you. This makes them worth chasing after the next time you acquire a vehicle.
Where to find Chonkers in Fortnite
These modifications can be found within some new structures that have appeared at various garages around The Island. You'll be able to acquire at least one of these tires by visiting any of the various gas stations.
Luckily, these are spread out all over the map, and once you visit them, you can find Chonkers either lying on the floor or among stacks of tires. You take a look at their locations below: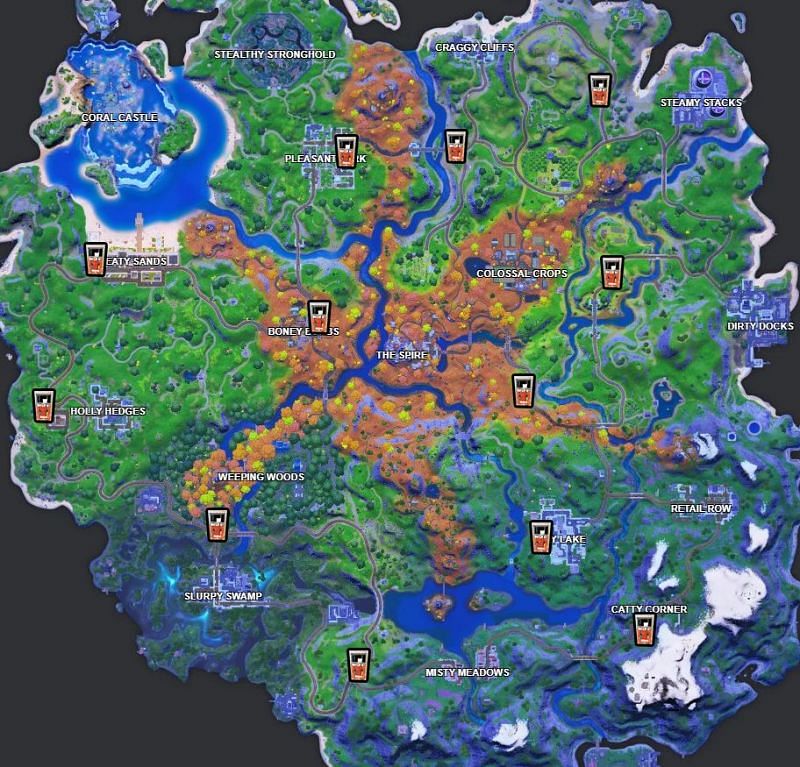 How to use Chonkers tires in Fortnite
Now that you know where to find the Chonkers tires in Fortnite, you'll just need to know how to use them. Luckily they're fairly easy to put together if you know where they are, and all you need is a vehicle to modify.
Once you've acquired a car, here's what you need to do:
Visit the garage at Catty Corner, and enter the building where Sparkplug spawns
Find the Chonkers tires lying on the ground and pick them up.
Hold aim and throw the Chonkers tires directly at your car.
That's all there is to it! Now, you'll be able to enjoy traveling off-road and up steep surfaces such as hills with relative ease. These new tires have different behavior on dirt, grass, or the road, which makes them difficult for enemies to pop.
Epic Games will also add more vehicle mods in Fortnite Season 6 soon, and those will have different effects on your vehicles. A few leakers have previously hinted at the future arrival of Mounted Guns in the game at some point.
We'll keep checking for the locations of more garages that contain vehicle mods, and will update this guide as soon as we find them.
In the meanwhile, the v16.20 update has also brought new bows, and a Duos cup that you can participate in to unlock Aloy from Horizon Zero Dawn for completely free!
Image Credits: Epic Games / Fortnite.GG