The FNCS Season 4 qualifiers have now ended as Week 3 wrapped up this past weekend. Now, we're onto the Grand Finals next week on all regions and platforms.
Ahead, we'll give you a breakdown of the top-15 players in each region during the Week 3 qualifiers – although this won't tell the whole story. NA-east, West, and saw double and triple-qualified teams, meaning more spots will open to teams who qualify through the Season 4 leaderboard. Let's take a look.
FNCS Week 3 European results
The European region was shrouded in controversy over the weekend, with stream sniping allegations, players leaving, and an overall mess on Twitter. Despite all of this, Jannis and his team won the week with 201 points – the lowest point total of a winner in any of the "Big 3" regions.
We had several double and triple-qualifiers in Europe, this week. It will be interesting to see which teams make it into the Grand Finals on the back of total Season points – with so many spots up for grabs.
MCES and1zr, Wave JannisZ, MCES duckontop
TrainH Umplify, Adnsoefy, TrainH Matsoe
BL Hеn, GO Decyptos, NaVi Putrick
k1nzеll, Wolfiezrr, dumptruсk
E11 Refsgaard, vitality stompyx, skrаm
ATX BlastR, Vitаlity Nikof, TrainH Alphaa
COOLER zq, R0babzr, b1acky.BDS
TrainH Skite, TrainH 팔콘 리, TrainH 야ᄀ소우
Deal with Mappi, DSR Fnajen, LeftEye71
Solarу Floki, Rams Clement, Rams naekoz
FaZe Mongrааl, f1-f2-f3-f4, deal with tayson
Vetle 7, IDrop 7, Playwell Styrsix
Vitality é9ki.èq, Vatо, leo the crackrr
EP Aleksa, GXR Milаn, сhapix 74
1lushaFN, Fury Legendary, OVA RijasR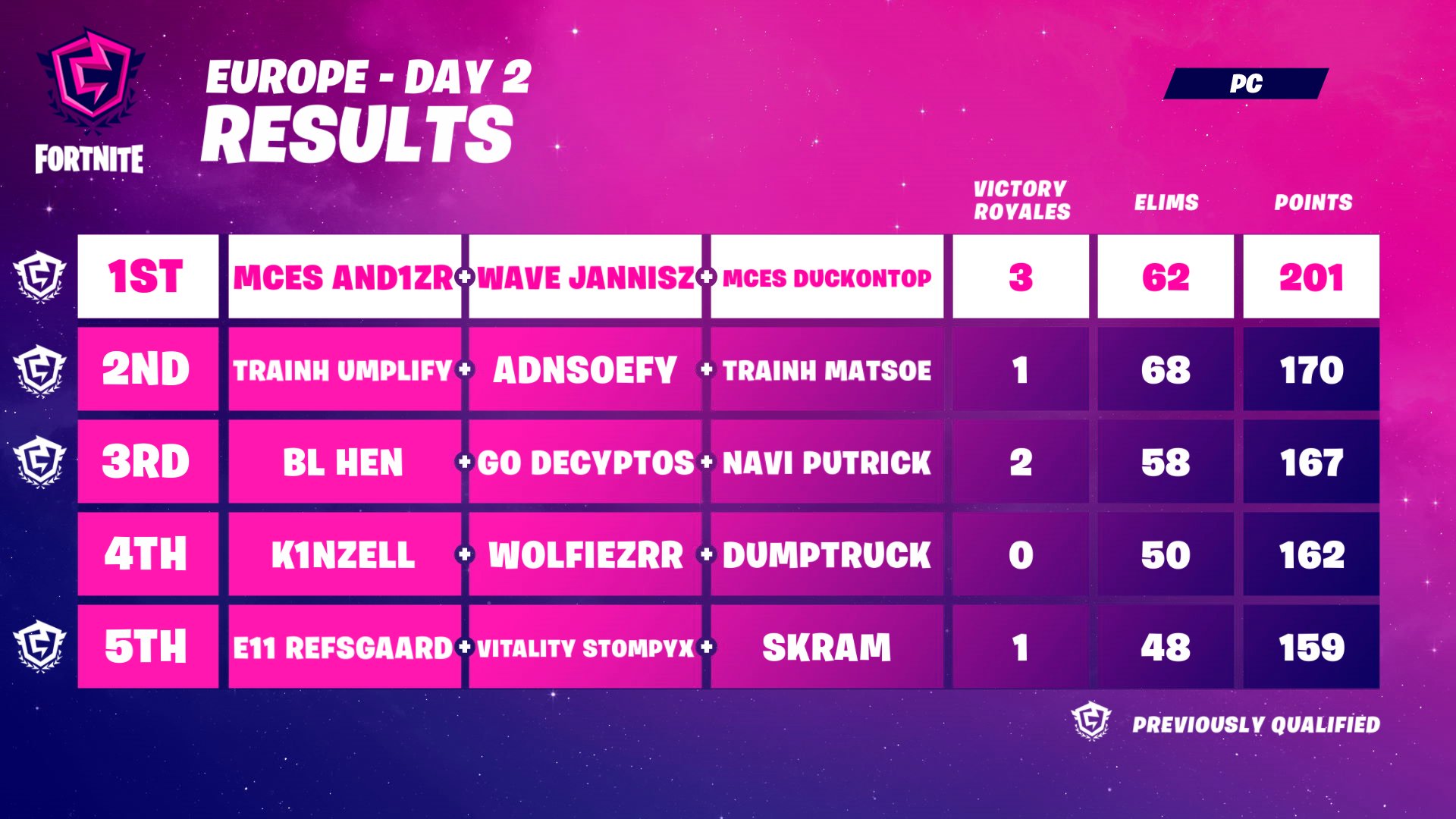 FNCS Week 3 NA-East results
The Teeam Liquid X NRG squad of Cented, Edgey, and Commandment dominated the NA-East region in Week 3, finishing with 236 points – 20 points above Deyy, Mero, and Reverse2k in second. Zayt, Saf, and Stretch had another strong showing with a third-place finish.
A lot of the teams who finished in the top 15 had already qualified, which means more spots are open to those who place highly on the seasonal leaderboard. Here's a look at how the top 15 looked when the last week of qualifiers ended.
TSM_Comadon, Liquid ilililil, NRG Edgey
TNA Deyy, TNA Mero., Reverse2k
NRG Zayt, TSM saffy, Liquid STREMON
LG Jampеr ψ, bughа, C9 Avery
NRG СІіх, illеst, FаZe Bizzle
BBG KREMON, BBG Bucke, TSM DEMONADA
LG Slackes, Acоrn, Vanish ʝahq
Crumblerr, Nexybtw, Marzz_Ow
FaZe Megga., Liquid Riversan, FаZe Dubs ϟ
Degеn, Ajerss, SEN Animal
GАВΕ, tаhi, sprite dabdabdab
zum ., skqttles, NRG Ronaldo
Јoji, Kn1pher, TabzG
Ghost Nittle, Mikeу., Ghost clarityG
vsB pgod, Alliege, Jelty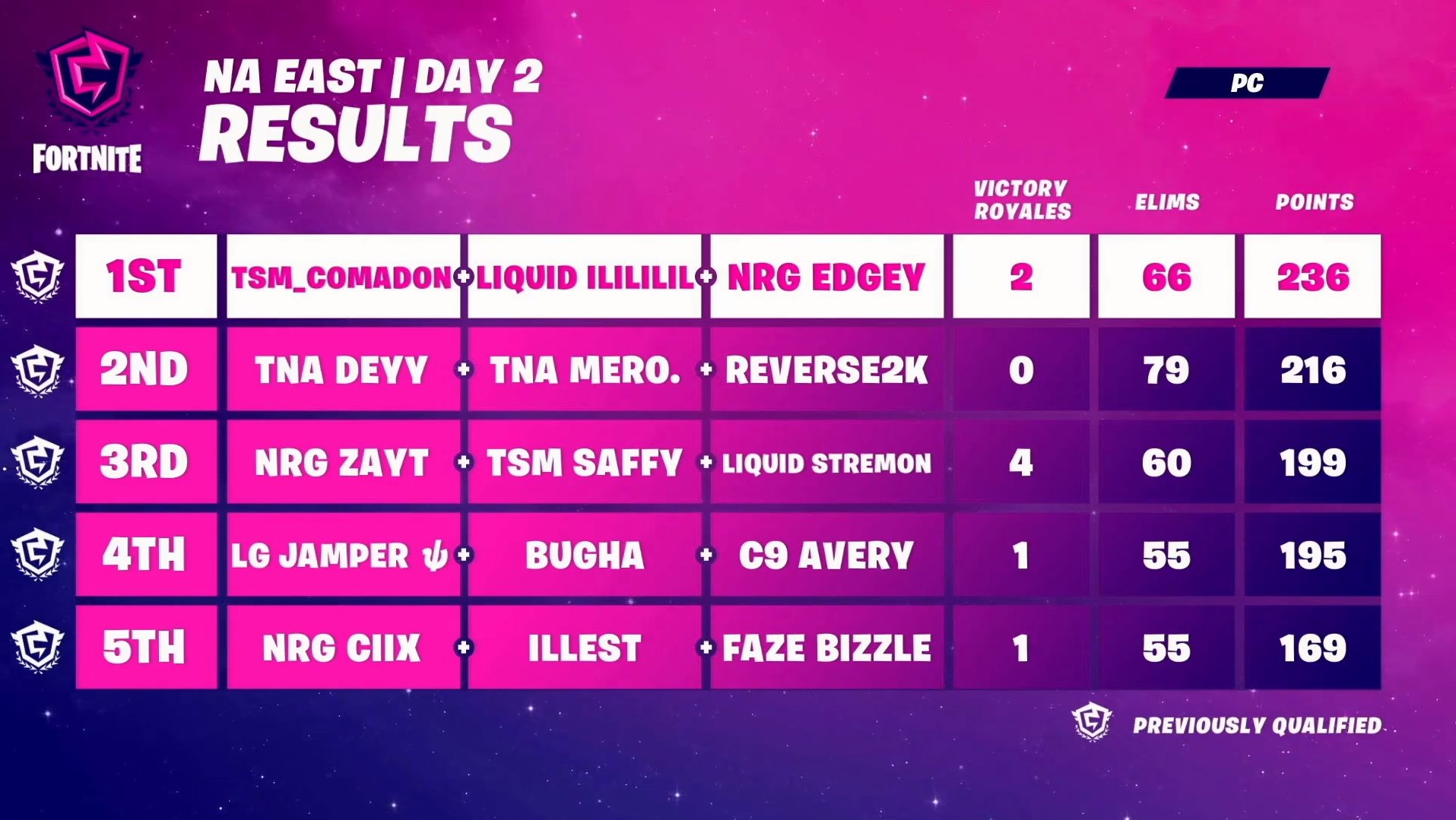 FNCS Week 3 NA-West results
The team of Little, Temple B, and Pelican took home the victory in Week 3 of the FNCS qualifiers with 227 points – ten points above Kenshi, Maken, and Dog in second. Unsurprisingly, Arkham, Rehx, and Epikwhale came in third place, with Reet, Wavydfavs, and dwavy behind them.
The NA-West region might be them ost top-heavy in all of Fortnite. Will this only be a three or four team race? We'll have to tune in next week to find out.
LITTLEǃ, TEMPLE B, clg pelican
kenshiメ, mаken, TD Dоg
100T Arkhram., 100T rehx, NRG EpikWhale
XΤRA Reet, wavydfavs13, EP dwavy13
CLG symetrical, NorCal Mony, jayrosez
NorCal Nol, NorCal Pepper., Apex Swarm
xtra caleb, XTRA Bumboy, XTRA verT
kuuzii, qCu17aH21cNO4k, Lollicker
ThaiTanks, 5G KADENOX, vanish sake
avail Ѵ, breaduh, Verno.
S2 alithy, wavydrift13, Outcast Frap
slіmXX, Nitrixǃ, zinqxzǃ
Kewlǃ, BeckTHD., MilkManFN
kаrp, coоpеr, Aiden eh 30
Pure snаcky, pure unsightly, pure chriѕ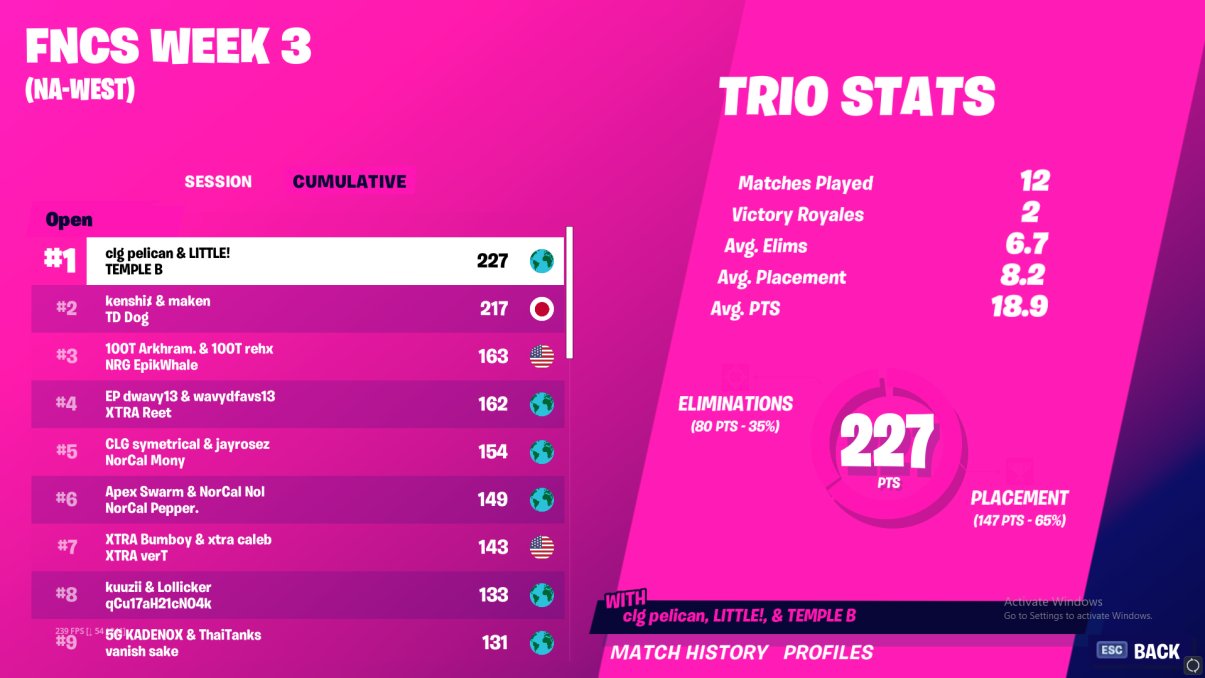 We'll be back next week with more coverage of the FNCS Season 4 Grand Finals in each region. Make sure to stay up to date with all things Fortnite by following us on Twitter @FortniteINTEL.