With each new season players of Fortnite get new items, changes, and even Easter eggs. And this means season 7 has got its fair share of Easter eggs as well. Players have been stumbling upon them since the beginning of the season, but not everyone knows about the uncertain implications of these Easter eggs. That said, not all of them hint at something; only some do.
ADVERTISEMENT
Article continues below this ad
 Best Easter eggs in the game:
ADVERTISEMENT
Article continues below this ad
1. Deadpool Easter egg
Deadpool is a popular Marvel character that, like many others, found itself in Fortnite. And something related to the notorious hero was found in the game recently. If players went to the center of the map, to the IO station. They would find Deadpool's logo on the display of a camera. Maybe this means players will be getting new Deadpool items.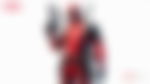 2. LeBron James Easter egg (probably)
Very recently people noticed a painting on a wall in Chicago. The painting contains the date 2/14/2021 and has wings and a crow as well. Since Fortnite already had a planned skin for Lebron James, many people are speculating that this painting has something to with the famous basketball legend.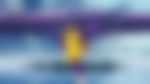 3. Henchmen don't like the Scientist
The two Henchmen can have a wide variety of interactions between themselves through emotes. What a lot of people might not know is, the Henchmen can use emotes to interact with the player. And if a players goes up to a Henchman in the Scientist skin, the Henchman will do the Go Home emote. The emote makes it obvious that the Henchmen don't like scientists. And the reason for this might be, scientists make them relocate time and again.
WATCH THIS STORY: Best Rage Moments of Ninja, Shroud, Tyler1, xQc, Dr Disrespect, and Nickmercs
4. The mysterious resemblance between Dwayne Johnson and The Foundation
It doesn't take a lot of effort to notice The Foundation's build is very similar to Dwayne Johnson's build. And the theory, that The Foundation is based on Dwayne Johnson, is supported by many as there was supposed to be a collaboration between the The Rock and Fortnite.
ADVERTISEMENT
Article continues below this ad
5. Rick and Morty Easter egg
For this one, players will have to go Corny Complex. In the underground complex under the area is a board containing a Rick and Morty Easter egg. The content on the board might be hints on what Rick and Morty items might come to the game in the future.
Even though there are more Easter eggs in the game than the above 5, these are still the most significant ones.
ADVERTISEMENT
Article continues below this ad
DIVE DEEPER