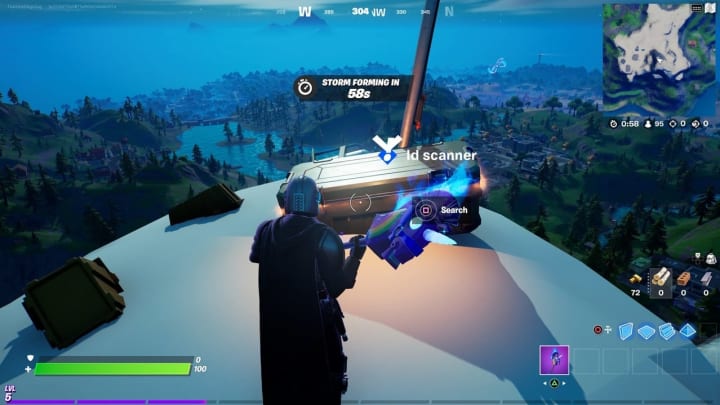 Find Beskar Steel Where the Earth Meets the Sky in Fortnite to unlock armor on The Mandalorian skin.
Epic Games is making players work to earn The Mandalorian's armor in Fortnite. The descriptions given for the various Beskar steel locations are never forthright and require some deeper-level thinking before making the journey to complete the challenge. Where the Earth meets the sky is another cryptic code-name, but lucky for you, we are here to help you out.
Once we reveal where the location, you will understand it is much simpler than Fortnite makes it out to be. Where the Earth meets the sky is the tallest mountain on the map. It is located on the south east corner of the map, just south of Catty Corner.
This mountain is very hard to miss. In order to complete the challenge players must make the trek up the mountain. Once there, a chest will be there at the base of a flag. The chest has an ID scanner, but it will open as long as you are equipped with The Mandalorian skin. The Beskar steel ingot will pop out and you will receive credit for the challenge.
Fortnite players will be rewarded with the Beskar style for The Mandalorian's left bracer. This will not earn the full set, so you will continue to have to grind out the challenges and level up your Battle Pass.